Bored of looking at gym equipments or being in an environment that is more interested in you signing a membership?
Challenge your boundaries with interval training and experience outdoor fitness in a fresh, fun and new way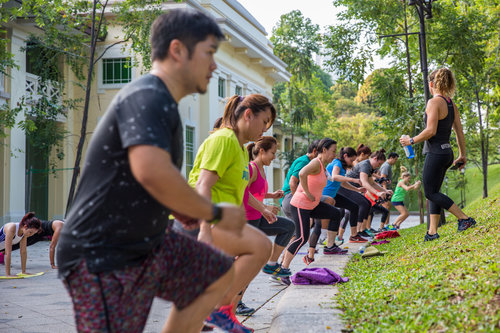 Catered for Your Fitness Level
Guaranteed to have tons of fun but be prepared for some high intensity training with different class levels. Be motivated with a group of like-minded and passionate individuals.
All classes are fun, supportive and are different every time, ensuring you'll never get bored. Check out the training catered for different fitness levels below.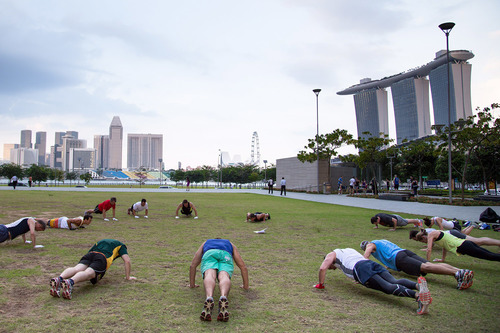 80 sessions weekly at Singapore's most beautiful locations. Take a breather from the city and sweat it out with highly qualified coaches
Gentle enough for those beginning a fitness programme. Improve your overall strength and core conditioning.
Get familiar with bodyweight exercises, functional interval training, mixed with calisthenics and cardio training.
Increase your stamina, cardiovascular capacity and your strength with fast-paced power and bodyweight movements, interval running on inclines such as stairs and hills with the use of our signature resistance bands.
Push your aerobic and anaerobic thresholds further every single time as you get super fit!
The work to rest ratio is designed to achieve the optimum bang for your buck. No regressions, no excuses, just hardcore passion for training.
Other F.I.T Classes
F.I.T BODYWEIGHT
No Bands, no ropes, no excuses…and no limits to what to the fitness levels you can achieve by harnessing the strength and power of your own body. Classes include full body mobility drills, hip and glute strengthening work plus core exercises and movements adapted from Pilates and Yoga right through to Military style circuits.
F.I.T CARDIO BOX
Want to get your two favourite classes in one? An fun outdoor Bootcamp on Sentosa Cove which allows you to get the benefits from both styles by focusing on two styles of workouts, boxing and bootcamp. Working hard and fast hitting every muscle to maximise muscle growth, fat lose & increase all round fitness.